There was a time when people used to carry a Paper Notebook to write down important notes. But now the time has changed. With evolving new technologies people have almost forgotten the traditional ways of taking notes. People often use their mobile phones, computers to write down important notes. There are various programs that people uses as a tool that replaces traditional diary. The sticky note is one of the popular pieces of a program that usually is very helpful for taking notes. But sometimes you might accidently delete the notes and may have trouble getting it back since you cannot recover from the recycle bin. Here in this article, we will see how to recover deleted sticky notes.
How to recover deleted Sticky notes
Sometimes the sticky note file gets accidently deleted or even gets corrupted. Deleting sticky notes seems too easy than creating one. All it needs to delete the file is click on the (X) button that gets visible when you hover a mouse pointer over the top left corner. By default when you choose to delete the note, it asks for the confirmation but if the default setting is changed, it will delete the note without any message or prompt.
Follow the instruction stepwise or watch the video to learn how to recover deleted sticky notes.
Note: You won't be able to view all the lost data in the sticky note program like before, you can search for the file and view the notes as the content of the file.
Step1. Open RUN (Win+R) and type %appdata%
Step 2.  Get inside Microsoft\sticky notes (ie. %AppData%\Microsoft\Sticky Notes)
Inside the folder, you will find "StickyNotes.snt"
Now you can open the file using NOTEPAD text editor and browse through the content and find the data that you lost.
Enabling delete confirmation for Sticky Notes.
By enabling delete confirmation, the accidental deletion of sticky notes can be minimized. I'll walk you through the process.
Step 1: Type Regedit in start menu and press enter through the keyboard which will open a Registry Editor
Step2: Next step is to navigate to the following key.
HKEY_CURRENT_USER\Software\Microsoft\Windows\CurrentVersion\Applets\StickyNotes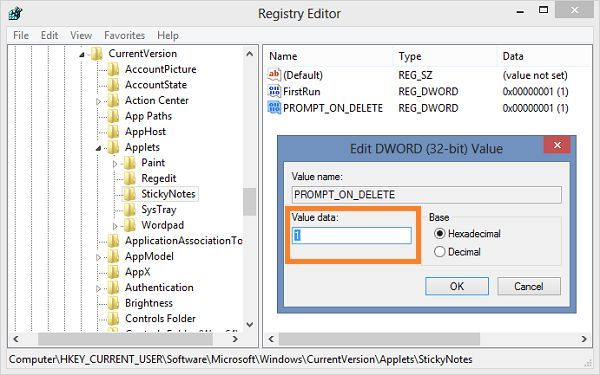 Step 3: Double-click on the PROMPT_ON_DELETE value on the right-side and change its value to 1 from 0.
Now you are all set. Next time you click on (X) button, You'll see a warning message which will minimize the chances of deleting notes accidently.